5 Annual Visits
Our lawn treatment program consists of 5 annual visits.
1. Early Spring
2. Late Spring/Early Summer
3. Summer
-Applied March-April
-Applied May-June
-Applied July-August
-Balanced Fertilization
-Balanced Fertilization
-Balanced Fertilization
-Pre-emergent Crabgrass Control
-Broadleaf Weed Control
-Insecticide for Surface Feeding Insects
-Broadleaf Weed Control
-Broadleaf Weed Control (as need)
4. Early Fall
         5. Late Fall/Early Winter
-Applied September-October
         -Applied November-December
-Balanced Fertilization
         -Heavy Rate Winter Fertilization
-Broadleaf Weed Control
About Nature's Way Lawn Care Treatment Program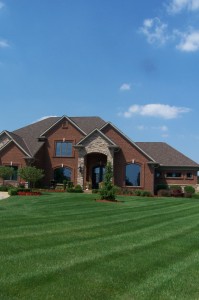 Nature's Way will create a treatment program specifically developed by your lawn's own needs and challenges.  In order to do so they will take a thorough analysis of your lawn to collect information that will help us to formulate a customized treatment program.
A lush green, weed free lawn is something every home owner wants. Eliminating weeds and creating a healthy lawn is our specialty. With over 25 years experience in green industry, our staff can provide you with a proven well balanced lawn maintenance program.  We use nothing less than the highest quality materials that are applied by trained and courteous professionals.  Our technicians will work with you to help create a beautiful weed free lawn.
Dedicated Service
As your lawn improves, we will monitor its progress throughout th season and adjust our program as needed.  As a full program customer, if you have a problem between scheduled treatments, just let us know – we will be there at not additional cost.  We can help you establish an optimal mowing and watering schedule, which is essential to your lawn's long-term success.
Environmental Benefits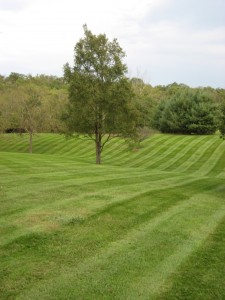 You (and your neighbors who get to look at it) aren't the only ones who benefit from you having a better lawn. When your lawn is thick and green, it helps to cool the environment, convert carbon dioxide into oxygen, improve air quality and prevent soil erosion to stabilize the ground beneath our feet.
Global Stewardship
Here's what we do to service your lawn safely and effectively:
Strict product development – We rigorously screen the active ingredients in our treatment programs to ensure we use only the most effective, environmentally friendly products possible.
Controlled application – We apply our products using the most accurate equipment available, most of which we've designed to meet our exacting standards.
By improving your lawn's ability to absorb water and nutrients, this exclusive additive formulation makes every drop of water your lawn receives more effective. Which is just better for everyone, isn't it?
We have a proven lawn treatment program that will improve and enhance your lawn's appearance. 
The following gives a description of application that will be applied.
5 Step Lawn Application Program 
Round 1
We apply a pre-emergent that will prevent crabgrass and foxtail from germinating. A broadleaf weed killer is also applied for control of any weeds that have emerged. A balanced fertilizer is used to green up the turf.
Round 2
This application consists of broadleaf weed control as well as a balanced fertilization.  A post-emergent weed control is included to help control any weeds that may have grown since the first application.
Round 3
Included in this application is a combination of fast and slow release fertilizer and insecticide for surface feeding insects.  Spot treatment for broadleaf weed control is applied as needed.
Round 4
Included in this application is a combination of fast and slow release fertilizer.  Spot treatment for broadleaf weed control is applied as needed.
Round 5
| | |
| --- | --- |
| This application includes a heavy rate of fertilizer to help the root system growth into late fall and winter.  The root system continues to grow all winter long even after the growth goes dormant. | |
Preventative Grub Control 
Grub worms feed on the root system of grass plants and cause damage.  This application is applied once a year and is guaranteed.  Preventative Grub Control is environmental friendly and safe.
Core Aeration and Overseed
In the fall we start the fall core aeration and over seeding service.  Core aeration can be completed during September, October and early November.  Over seeding of the lawn must be completed by no later than October 15th (weather permitting) to allow for seed germination.  We recommend aerating your lawn once a year, or at least every other year, along with over seeding.  Aeration only (no over seeding) can also be provided per your request.
Aeration is a mechanical procedure that pulls 2"-3" plugs throughout the entire lawn.  By going over the lawn twice it will help promote turf density, which is the first step to a healthier lawn.  Aeration also helps to loosen soil compaction, and allows roots to grow deeper into the soil.  This allows water, nutrients and oxygen to get to the root system.  The combination of aeration and over seeding helps to build a thicker and stronger lawn.  The fall is the best time so that the seed has enough time to germinate and have a strong root system started before the next season.
THE ONLY WARRANTY WITH SEED WORK IS THAT THE RATE OF SEED IS APPLIED AT THE RATES RECOMMENDED BY THE MANUFACTURER.  ANY UNWANTED ACT OF MOTHER NATURE IS NOT COVERED BY WARRANTY.  IT IS THE CUSTOMERS RESPONSIBILITY TO PROPERLY WATER THE NEW SEED AND TO MINIMIZE FOOT TRAFFICE IN THE SEEDED AREA(S).