Our maintenance program offers people a beautifully manicured property that they desire without involving them in the tedious labor that is required to achieve that desired look. Our services ensure that your landscape investment is properly maintained.
Your landscape is a large investment into your home or business.  Landscape needs attention and care to maintain your investment.  Our programs are designed to make sure your landscape is maintained all year long.  We offer both spring and fall clean ups.
The spring clean up consists of applying a triple shredded mulch, edge all planting beds, trimming shrubs to their natural shape and removal of weeds. A pre-emergent herbicide is applied to help control weeds throughout the year.
The fall clean up consist of select pruning, cutting back grasses and perennials, removing all unwanted debris from beds. Mulch and edging of beds can also be applied upon request.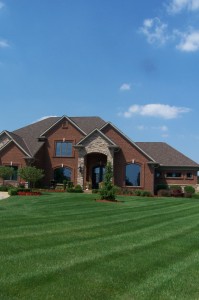 Seasonal Grounds Maintenance Program
-Ground cover maintenance control
-Weed control/hand weeding
-Season annual color programs
-Edging of all bed spaces
-Mulching of all bed spaces
-Pruning and manicuring of all plant material
-Leaf removal-all leaves will be removed & disposed off site
*We recommend this service one to two times per year.